Press release from 05.05.2022
Get creative and experience the world of ceramics. The Center for Ceramic Education and Research (BFZK e. V.) and the Westerwald Museum of Ceramics for Children from Höhr-Grenzhausen allow children to experience ceramic culture first-hand during the Easter holidays.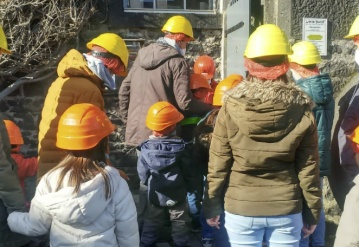 Hohr Greenshausen. Many children spent most of the last time at home and had no opportunities to experience anything outside of school. From April 19 to 22, it was finally that time again. 16 children were allowed to spend their holidays in the Museum of Ceramics. In addition to designing small ceramic artworks, the program also included a trip to a mud pit.
In Museum Education at the Museum of Ceramics, the children made themselves at home with their caretakers Steffi and Tine and spent 4 entertaining days together. Of course, the focus was on pottery and modeling. Of course, they were also allowed to walk around and play puzzles outside the museum and while the museum was gathering.
A highlight is the trip to the "Richard" mud pit near Byroad. Here the kids learned why mud mining and reforestation are linked together. You learned the different types of clays that are mined, what they are suitable for, and how they are finally processed and sold. Kids can watch the excavator digging and carrying. After that, everyone was allowed to look at the processing and storage. To their delight, they were able to explore different types of clay on a large scale.
BFZK regularly presents events during the holidays and on Sundays at the Ceramic Museum. These works are funded by the "Tafel macht Kultur" programme. It primarily targets children whose families are customers of local food banks, but anyone else in the community is welcome as well. (evening)
About BFZK e. Fifth
The non-profit association is an association of 8 foundations. The members of BFZK are: Department of Material Technology for Glass and Ceramics at the Koblenz University of Applied Sciences, Montabaur Vocational School (ceramics branch), State Technical School of Ceramics, Institute of Technical Ceramics and Glass (IKKG) at Koblenz University of Applied Sciences, Technology and Start-up Center for Ceramic Materials CeraTechCenter ( CTC), the Museum of Ceramics in Westerwald, the Research Institute for Inorganic Materials – Glass/Ceramics Ltd. (FGK), and the European Specialized Center for Refractories GmbH. (ECREF). All players have different skills in ceramics and are committed to ensuring that traditional as well as future-oriented materials receive more attention.
More information: www.bfzk.de
About the Tafel Matt Culture Program
The environment of the Tafel with its diverse networks provides ideal conditions for various cultural projects. For a project, a food bank unites with at least two regional players to form an alliance. Funding is provided for extracurricular activities that give socially and economically disadvantaged children and youth between the ages of 3 and 18 access to cultural education.
More information: https://www.tafel.de/projekte/tafel-macht-kultur/
Westerwald Panel: Save the Food. Helping people.
450 men and women volunteer at the Westerwald Food Bank. They collect impeccable but surplus food from stores and distribute it to about 2,000 people, 760 of whom are children, at the eight distribution points in Westerwald. Thus the painting creates a bridge between abundance and scarcity.
More information: www.tafelwesterwald.de
---
More on this: Children and youth

Local: Höhr-Grenzhausen and surroundings
Become a fan of the local version of WW-Kurier.de Höhr-Grenzhausen on Facebook now!