Can literature predict the future? Yes, says Jürgen Wertheimer. He wants to prove it through the "Cassandra Project". Cooperation with the German Ministry of Defense from 2017 to 2020 had initial success – however, the project ended. But according to Wertheimer, the journey is only just beginning.
In the end, her beauty became her retreat. According to Greek mythology, the Trojan princess Cassandra was as beautiful as the goddess of love Aphrodite – which led the god Apollo to fall in love with her. He even gave her the gift of sight, that is, the ability to correctly predict the future. Since she did not return his love, he cast a curse on her: Cassandra will be able to see the future, but no one will believe her.
Although she realized the ploy of the Greeks to get into the city walls in the belly of the proverbial Trojan horse, no one listened to her. It has been told often, yet Cassandra's story is relatively unknown. It still has a symbolic meaning. "Cassandra has often been seen as a crazy or hysterical woman. She is just a perceptive observer describing what she sees," says Jürgen Wertheimer.
Wertheimer's association with the character and his name goes beyond the superficial profession. Instead, the professor emeritus at the University of Tübingen made the misunderstood clairvoyant a name for what could safely be called his life's project: the "Cassandra Project". Behind it lies what appears to be a crazy undertaking to predict the future – not with the help of the best data, technology or scientists, but through reading books.
According to Wertheimer, one thing is clear: if you know how books are read and how they are received in society, you have a good chance of predicting when moods can rise in certain areas and armed conflicts or even wars can erupt. And not only in the short term: according to Wertheimer, such crises can be expected five to seven years in advance.
Obviously this is important. In the end, the project was turned into reality by the German Ministry of Defense, which funded it from 2017. Top secret of course. The coronavirus pandemic has ended the collaboration, and Project Cassandra has been suspended. But Wertheimer does not wish to let his knowledge and vision be in vain. The next attempt to restore Cassandra's reputation begins.
We are not used to drawing conclusions from the literature.
Predicting the future is not a new human desire. And today in particular, at the beginning of the twenty-first century, which began with the terrorist attacks of September 11, 2001, has gone through a global financial crisis and is now paralyzed by a worldwide virus – all events that were entirely predictable – the desire is greater than ever. In the end, every government, every company and every organization, like every individual, tries to anticipate what will come tomorrow and the day after tomorrow. The focus is currently on Artificial Intelligence (AI). For example, Germany is pushing for the data-driven platform Preview, which aims to predict international conflicts. Cost point until 2025 (according to the British newspaper The Guardian): 3 billion euros.
With the help of artificial intelligence, attempts are also made to predict developments in the stock market, to be able to better predict storms, etc., however, the limitations of data, which always depict only the past and the limits of artificial intelligence, currently operate within the framework of what is possible Humanly, these methods often leave behind seem flawed.
Time and time again, the book has proven that literature and fiction can also predict the future. Author H.G. Wells wrote about atomic bombs as early as 1914, and Philip K.Dick predicted flying cars in Do Androids Dream of Electric Sheep? (Blade Runner model); Morgan Robertson wrote in frightening detail from 1898 about a giant passenger ship called the Titan that collided with an iceberg and sank. The RMS Titanic crashed in 1912.
But systematic examination of the literature to identify vibrations in specific regions was novel. "We are not used to drawing conclusions from the literature." But for Wertheimer, good writers record and describe the vibrations of their environment, like seismographs in a community. And so the comparator was always sure that his approach should work. Even the book that finally gave the project its name – "Cassandra" by Christa Wolff – shows this: written in 1983, it actually traces the fall of the German Democratic Republic (GDR).
So Wertheimer came up with the idea. He went to the ministries because the researcher was sure that they would have an interest in identifying international flashpoints at an early stage. But the German Foreign Ministry relies exclusively on data-driven methods, and the Ministry of Economy has never started.
Finally, the German Ministry of Defense decided to support the project after two years of negotiations. So Wertheimer and three other researchers began examining the texts. The team focused on three regions: the Maghreb, other parts of Africa (Algeria and Nigeria), and the Balkans. However, he soon realized that there were plenty of books out there and most of them were in a language no one spoke. Ideas for technological solutions were presented – the keywords "text mining" – but these ideas were quickly discarded.
"You don't start with a sea of ​​books, but with selective reading, and then you expand it step by step," Wertheimer says. "We don't examine the whole world, it would be silly." It is not a question of quantity, but of quality. Sometimes 100 books are enough – if they are scattered all over the place and chosen wisely."
Wertheimer incorporated relevant authors from the regions into the project early on. Among them were Nigerian Wole Soyinka, Kosovar writer Peki Koufa and Algeria's Boualem Sensal. People gathered, organized discussions, and were briefed on the latest developments in the respective regions.
From all of this, Wertheimer's team then developed "emotion maps" that use data to show how violent language has developed in certain regions. Advantage: The map is also understandable to German Ministry of Defense officials – unlike accounts that are several hundred pages long.
Individual works were then ranked based on indicators such as subject scope, censorship of the work or author, awards received by the work or author, or narrative strategy. The higher the points, the more "dangerous" the action. The highest score, 25, was for Boualem Sensal's novel 2084, which describes a futuristic world where individual identity is abolished after a holy war and where total surveillance reigns.
Despite some difficulties – translation into Emotion Maps did not always go smoothly – the Cassandra project celebrated successes: in Algeria, which the team had already identified as a relevant region in 2017, violent protests erupted two years later, which eventually led to the resignation of the then-president. Abdelaziz Bouteflika.
Overall, Wertheimer explains, it's not so much about making accurate predictions: "It would be very ridiculous if we were to claim that a particular event would happen on a specific date. Rather, it's about getting to know the sediments — we're a kind of cultural seismographer. We record the interior of the Earth." And we identify where the fault lines and danger zones could be."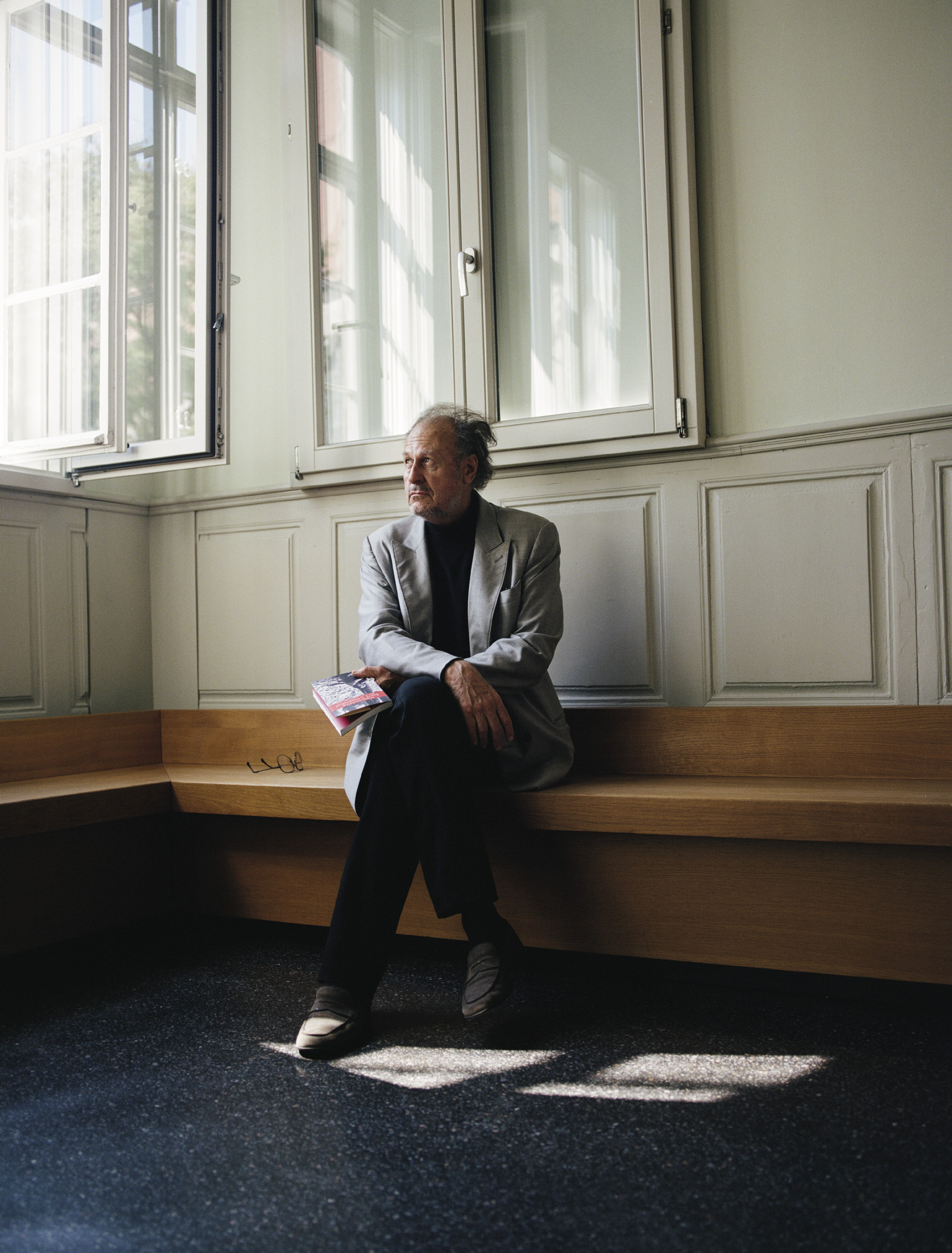 Jürgen Wertheimer
… He was born in Munich in 1947. He is a literary scholar He is a comparative scientist at the University of Tübingen and founder of the Cassandra Project.
Jürgen Wertheimer has been living in the university town of Tübingen since 1991. The German was born in Munich, and spent his university years away from the turmoil of the 1968 revolution. But Wertheimer is not a big fan of crowds, and therefore stayed away from business and political demonstrations.
So Wertheimer began reading – and continues to do so today. And with the Cassandra Project, he finally found an additional purpose for this activity – one that Wertheimer had always known existed. The fact that Project Cassandra was halted in December 2020 despite successes in the wake of the pandemic clearly infuriates researchers to this day. In general, he does not take kindly to the institutions with which he worked: "I have noticed an incredible hesitation in many offices and authorities in Germany as well as in the European Union, which is hesitation in making decisions. This is nothing new in itself, but I would not have imagined it with this Strength. This is a worrying factor for the next decade, in which clear decisions and swift action will be critical."
Because, according to Wertheimer, we have many decisions to make – especially in Europe. Dealing with refugees, attitude to foreign policy issues or the race for technological leadership are just a few of them. However, according to Wertheimer, Europe's inaction on these issues is problematic. And Wertheimer would not be Wertheimer if he also did not have examples from the available literature.
He calls the work "Biedermann and the Arsonists" by Max Frisch, which shows what happens when idleness, inertia, vanity, and false politeness (in Biedermeier style) encounter an external enemy (in the form of arsonists). These enemies can have many faces, one of which, according to Wertheimer, was described by the Frenchman Michel Welbeck. In the 2015 novel Submission, the author charts a vision of political Islam's takeover of France in 2022. "You can say what you like about Houellebecq, but this book makes you think."
Despite all the disappointment, Wertheimer is by no means a killer. "Europe has some achievements certainly worth defending," Wertheimer said. "But then you have to do it aggressively."
In the end, it doesn't look like Wertheimer will become a victim of his own project name, which will remain unheard despite correct predictions. The gradual cancellation of cooperation with the Ministry of Defense allowed the project to communicate more actively, which had previously been impossible due to secrecy. Wertheimer gave interviews and wrote an article called "Sorry Cassandra", taking its title from a song by Swedish band ABBA. "Activities like ours should not really remain secret. They only make sense if they reach the public through the media."
A few weeks after our first interview, Wertheimer said by phone that the US Military Academy at West Point had shown an interest in the project. Within the framework of Russia's Strategic Initiative, which is based at the headquarters of the United States European Command (YUCOM), Project Cassandra aims to monitor the Eastern European region, in particular, countries such as the Baltic states or Poland. which also fought with their Soviet past and European present The EU could also bear close to €300,000 in project costs annually — and negotiations are underway there, Wertheimer says.
And if all else fails, Wertheimer even thinks about becoming an entrepreneur: "In our entire capitalist world, I would find it a pity to give our work for free. Unpaid items are generally not taken seriously. Cassandra had to test this. " And finally: "Perhaps there will be an intelligent mind among your readers, and a foresighted organization that would be interested in such a pilot project."
Text: Klaus Viala
Photos: Tarek Moawad
This article appeared in our issue 6-21 on the topic "Next".
Klaus Viala
Editor in Chief