The streets of Yaounde, the capital of Cameroon, are filled with young sellers. Children between the ages of seven and fourteen can be found at the main intersections and in the markets – often late at night. Kevin and Leah are also present. They have school holidays but no free time: "I sell water to help my parents pay for my exercise books for the new school year," says Kevin. The boy is eight years old. Ten-year-old Leah sells peanuts, which she also wants to use to fund her books.
Scenes like this worry Chantal Zanga. In an interview with DW, the director spoke out clearly against child labor. "Children have the right to protection," she says. "If we send them to the streets, who will protect them?"
Negative trend reversal due to Corona as well
Most of the 160 million child laborers worldwide live in African countries: the International Labor Organization assumes that more than 72 million children in sub-Saharan Africa are affected by child labour, roughly one in five. Experts estimate that millions of children are at risk as a result of the coronavirus pandemic.
The Bedouin Breed of Working in the Salt Desert of Ethiopia's Afar Region (2017)
According to the United Nations Children's Fund, UNICEF, progress in ending child labor worldwide has stalled for the first time in 20 years. Population growth, recurrent crises, extreme poverty and inadequate social protection measures have forced an additional 17 million girls and boys into child labor in sub-Saharan Africa in the past four years.
Daily dangers to health and life
Young street vendors are exposed to weather, traffic, and sometimes sexual violence on a daily basis. Twelve-year-old Juliette Limana can sing a song about dangers in the town of Gondy.
At the request of her mother, she said that she sells safflower and roasted bananas, which are popular in the region. Sometimes in the market, children sometimes offer their goods for sale directly on the street to passing cars. "But recently my colleague was run over by a motorbike," the girl recalled. But what worries her is not only the risk of accidents, but the long working hours as well: "Sometimes we come home at night and can't find our way."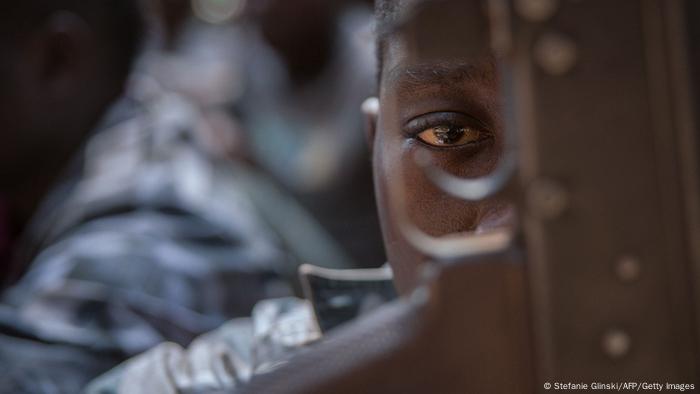 Child soldier released in South Sudan (2018)
According to Cameroonian activist Pauline Peyong, child labor is prohibited by law: "Cameroon has ratified many laws to protect children. So this phenomenon should be marginal, but unfortunately we see in our cities day after day that fathers are using children as parents," said the head of the Women's Education Association. And Children (LEFE) in an interview with DW: "This is not normal."
Difficult choice: help the family or invest in the future
Poverty remains one of the main causes of child labour. In order to ensure their survival and that of their families, children toil in gold mines in Tanzania and the Democratic Republic of the Congo. They put their lives at risk as child soldiers, for example in South Sudan. They also work in agriculture – often accepting low wages dictated by the world market.
Such is the case with cocoa cultivation in Ivory Coast. There, the Swiss company Nestlé is trying to burnish its bad image of cocoa farming — among other things by building classrooms for children in farming areas and literacy campaigns for women in the market. But children still work on some cocoa farms, Toussaint-Luc Nguesan, Nestlé's director of programs, admitted in an interview with DW: "The problem of child labor is real."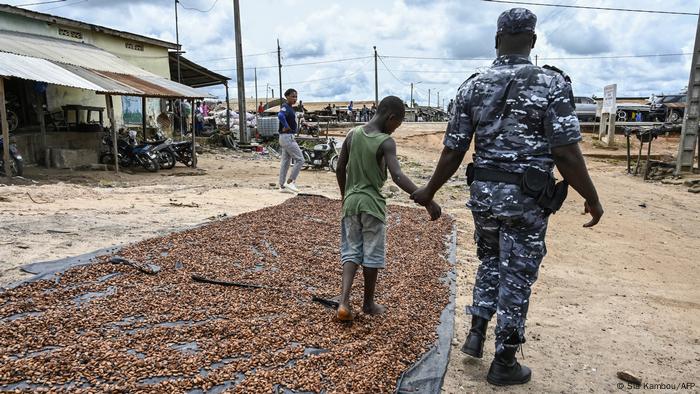 Police operation against child labor in cocoa production in Ivory Coast (2021)
Child labor is also a big problem in Nigeria: According to the International Labor Organization, 43 percent of children aged five to eleven in Africa's most powerful economy have a job – even though international conventions prohibit it: "My father brought me to Here so I can learn to sew," said a boy in Maiduguri, northeastern Nigeria. Some days he earns 150 naira – less than 40 euro cents. Adamu Umar, a father of 15, told DW that he allows his children to work as street vendors to increase the family's income.
But aid organizations warn that the sacrifices they make for their families ultimately cost the children dearly. Because without school education, the opportunities for social advancement and a better life also vanish.
Desire and reality
As part of the United Nations Sustainable Development Goals, all 193 member states have committed to taking effective action to eliminate forced labor, modern slavery, human trafficking and the worst forms of child labor by 2030 – including child recruitment. But controls to shut down minors are scarce, children's charity Plan International also criticizes.
Garbage collectors in Abidjan, Ivory Coast (2015)
When the need is great, insight is often lost. "Children have to learn to contribute the income themselves, which is not a bad thing," says Giselle V. Gundy, who works at Econo Savos Market. "During the holidays they have nothing to do and it is normal for them to help us prepare for the start of school by at least buying brochures." "Cameroon is tough," he adds succinctly.
Activist Lucy Yunana does not allow such arguments to pass in Maiduguri. The government is demanding tough penalties for non-compliance in order to convince parents to see things. Because, according to Jonah: "It is our responsibility as parents to take care of our children and not our children for our own sake."
Assistant: Elizabeth Asin (Cameroon), Julian Addai (Ivory Coast), Al-Amin Gombe (Nigeria)