(extract from press release)
Today, HUAWEI unveils its latest wearable devices, its vision for personal health management and the latest smartphone technology at the House of HUAWEI event in Milan.
William Tian, ​​President of HUAWEI Western Europe, expressed his excitement at the product launch: "HUAWEI has been involved in health and wellness for a long time. Today we are taking the development a step further, introducing four new wearable devices and a major upgrade to the popular HUAWEI Health app. Through With our R&D expertise and state-of-the-art health lab, we offer a range of wearable devices for those who want to live healthy lives while feeling good in their bodies."
HUAWEI Watch GT 3 Pro: Your Best Time
Today, HUAWEI presents its latest premium smartwatch: the HUAWEI Watch GT 3 Pro. With its elegant design, high-quality materials and a variety of innovative sports and health features, it is aimed at people who want to take more advantage of their active lifestyle. The smartwatch contains several sensors and tracking features through which users can monitor important health parameters such as heart rate, blood oxygen or stress level. Sports and exercise are also part of a healthy lifestyle. Therefore, the HUAWEI Watch GT 3 Pro provides intense activity tracking for running, cycling, spinning and more, allowing users to maximize efficiency in their training sessions.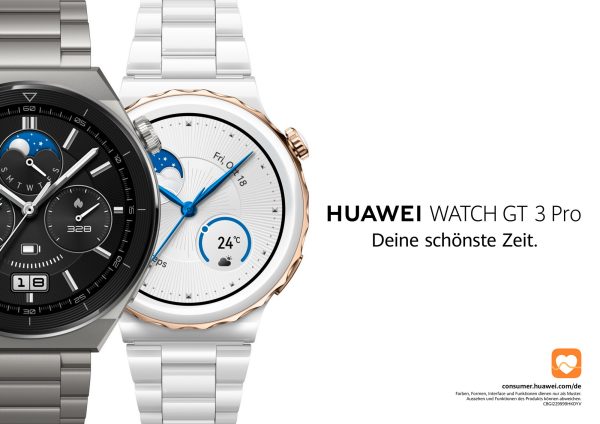 In terms of ease of use and range of functions, the premium smartwatch is equipped with the full range of current advanced technologies: it is compatible with all smartphones from Android 6.0, Harmony OS 2 or iOS 9.0 and can be quickly connected using existing Bluetooth. 5.2 Standard and connected to devices in an energy-saving manner. The 46mm version of the HUAWEI Watch GT 3 Pro is equipped with a 530mAh Li-Polymer battery, which guarantees a runtime of up to 14 days in standby mode and can be charged in a maximum of 85 minutes.[1].
HUAWEI Band 7: a stylish fitness tracker with many functions
The stylish fitness tracker not only offers a particularly slim bag, but also a 1.47-inch AMOLED display with a resolution of 194 x 368 pixels. The narrow bezel allows for a large display with high contrast for an optimal reading of fitness values. In addition, the HUAWEI Band 7 provides absolute comfort to wear in daily life. It is the thinnest and lightest Huawei wearable with a thickness of 9.99mm and a total weight of 16g.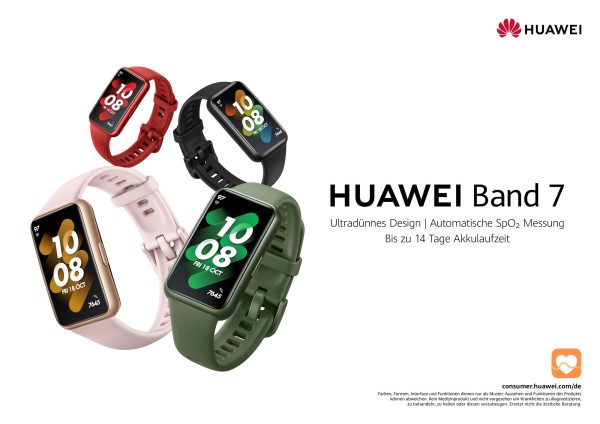 The fitness tracker comes with 96 different sports modes, including cycling and outdoor swimming. On the underside of the tracker, the HUAWEI TruSeenTM 4.0 sensor helps health-conscious users measure heart rate and oxygen levels and monitor their physical condition around the clock. HUAWEI TruSleepTM 2.0 provides improved sleep tracking and provides accurate information about your current sleep quality. With normal use, the bracelet has a battery life of up to 14 days and even with heavy use, for example with the always-on display, 10 days of operation time is not an issue1.
HUAWEI Watch FIT 2: Slim Design, Larger Display
HUAWEI Watch FIT 2 is equipped with a 1.74-inch AMOLED display that provides an excellent visual experience with 336 pixels per inch and a resolution of 336 x 480 pixels, achieving an aspect ratio of 72.2%. Each version of the HUAWEI Watch FIT 2 is offered in an individual color choice. When it comes to bracelets, users can choose between comfortable silicone and elegant leather or the trendy Milanese bracelet in different colors and designs.

The HUAWEI Watch FIT 2 now has a speaker in addition to the microphone. Thus, calls can be transferred from the smartphone to the smart watch via Bluetooth. The HUAWEI Watch FIT 2 is packed with smart features designed to help exercise enthusiasts; Including 97 sports modes from running and cycling to strength training, dancing, ball games, winter sports and more. And for runners, the HUAWEI Watch FIT 2 has something special in store: it features the HUAWEI Running Ability Index (RAI), which analyzes user experience in height, age, weight, fitness and running to create a professional training plan.
HUAWEI Health App 2.0: the perfect combination of software and hardware
The HUAWEI Health app and HUAWEI Health+ combined with powerful HUAWEI wearables form a comprehensive fitness and health experience that helps users track their exercise progress and monitor their physical condition. With the new version of the HUAWEI Health app and HUAWEI Health +, the options are now more diverse. The app offers more than 100 sports modes with advanced tracking, training and analysis for various outdoor and indoor sports from running, swimming, cycling, triathlon and many more.
The Stay Fit plan combines fitness and nutrition, personalized training plans, daily nutritional analysis and dynamic adjustments. With the help of the food diary of the HUAWEI Health app, users can enter the dates of their meals into the app and thus accurately calculate the number of calories, which helps them work on burning fat, building muscle or dieting more balanced on a target diet. method. The 3D tracking function also tracks users' running paths and enables sharing of progress via social media. HUAWEI wearable products and services also feature excellent data protection and security.
HUAWEI Mate Xs 2: Ultra-thin, lightweight and extremely reliable
HUAWEI's new foldable smartphone with an astonishing 50MP True Chroma camera system is just 5.4mm thick. At the same time, the phone weighs only 255 grams, a weight that so far can only be achieved using non-foldable smartphones. The hinge of HUAWEI Mate Xs 2 is made of ultra-lightweight and especially strong steel developed by HUAWEI itself, which has a high level of durability. When unveiled, the 7.8-inch foldable HD True Chroma display folds flat using a Falcon Wing hinge via an ingenious hinge. HUAWEI Mate Xs 2 is equipped with a composite screen, which is modeled after an automobile anti-collision system, thus forming an excellent shock absorber and shock absorber. This improves the phone's flexibility and shock resistance, giving users a sense of security.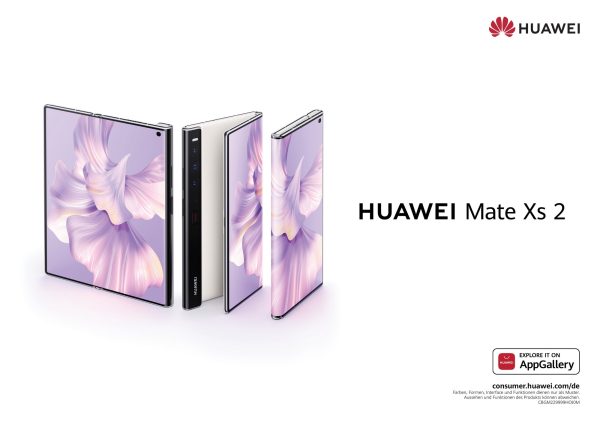 The kink Wonder HD display supports a refresh rate of up to 120Hz, 1440Hz high frequency PWM dimming and a touch sampling rate of up to 240Hz, thus ensuring a particularly impressive display effect. The phone also features HUAWEI's first 3D fiberglass design, which provides a smoother feel and reduces fingerprints on the screen. The lush 4600mAh battery charges to 90 percent in just 30 minutes thanks to the 66W HUAWEI SuperCharge fast charging.[2]
[1] This can only be achieved when using the dedicated 66W HUAWEI Supercharge Charger and Cable.
[2] Supports up to 66W of HUAWEI SuperCharge and can only be achieved with dedicated 66W HUAWEI SuperCharge charger and cable