It looks like Mercedes has found the key to its rebound problem. Now engineers still have to set lap times. The gap per lap was reduced from one second to six tenths.
It wasn't a major breakthrough, but it was an important step. Mercedes appears to be in control of the jump, which put decisive brakes on the erratic W13 in the first five races. In the free practice sessions, it looked as if Lewis Hamilton and George Russell could race for Ferrari and Red Bull. Times of the best three cars were within three-tenths.
When things got serious, Russell, in the two fastest Mercedes, was 0.643 seconds off Charles Leclerc's pole position and three-tenths of Max Verstappen, who had to thwart his last attempt due to a DRS problem. In the first five races, the gap between the leaders was frozen into one second. Team boss Toto Wolff spoke of an "appropriate move". On the fourth and sixth grid positions, the Mercedes drivers beat at least one Red Bull.
The distance to Ferrari and Red Bull grew by 48 degrees in the asphalt temperature mainly because Hamilton and Russell lost so much time in the latter sector. Chief Engineer Andrew Shovlin briefly analyzed the "ultra-hot tyres". The drivers may have accelerated a lot in the first two sections. Russell leads the Sector One rankings with a time of 21.936 minutes, with Hamilton third in the midsection with a split nearly identical to Carlos Sainz.
Overheating of tires in the last sector
Wolf defended his star pilot: "Lewis had trouble with balance. That's why he lost more time than George at the end of the lap." Hamilton lamented that all the drivers who kept their warm-up lap distances to race control specifications later had problems with their tires on the fast lap. This should be investigated carefully."
Rebound disappeared except for the third and ninth cycle. Changes made to the lower body had an effect. However, the engineers also admitted that the Catalunya circuit generates less vibration than other circuits. It is likely that you will discover the whole truth only in Baku with its long, flat sections.
Toto Wolff still breathed a sigh of relief: "Now we understand what ground clearance we can expect from the car. Now we can finally start regular development work and try to make the car faster."
The opponents had already released a lot of their powder. Wolff believes: "If we understand the car and tires better, we should be able to catch up with Ferrari and Red Bull." Designers fear competition. "Once Mercedes has exhausted the potential of its extreme concept, others will have nothing to smile about." The only weak point: "With this car, you are forced to drive at the lowest height of the car. Otherwise, the aerodynamics will not work. Ferrari and Red Bull have more freedom there."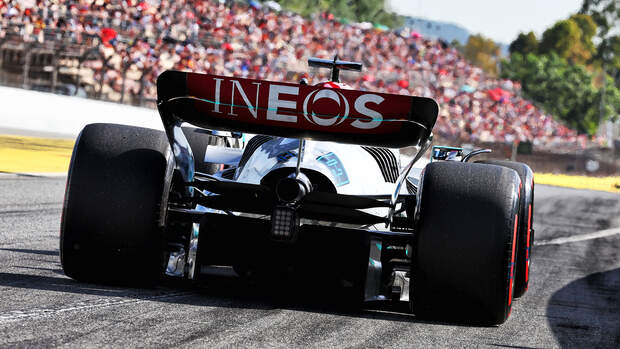 Attacking Ferrari in the race
Lewis Hamilton looked relieved, despite suffering another defeat in direct comparison to Russell: "For the first time this season, the car felt like a real race car again." Although the starting location is the same as it was in Miami a couple of weeks ago, progress can be felt at the end. "I felt my best time in the second quarter was taking center stage." Paired with hope: "Now we can finally develop ideas about where we want to go by car."
George Russell also sees light at the end of the tunnel: "This was our best qualification as a team. Now we have a good foundation to work with. The gap for Leclerc is still big, but we took the time because we didn't. To get the tires perfectly into their working window."
As for the race, the drivers and men on the Mercedes driving bridge expect an improvement on Saturday. "We are usually better in the race than we were in one lap. In the long distances on Friday we were better than the Ferraris. If it continues like this, we should be able to beat them." However, one engineer cautioned: "Ferrari was running at its race pace. Clerc's long run on lap three on the soft tyres looked a lot better."